When Jesus spoke again to the people, he said, 'I am the light of the world. Whoever follows me will never walk in darkness, but will have the light of life.' John 8:12
Jesus makes another great claim in calling himself the light of the world. By hearing this, his hearers would have remembered that God spoke light into being; he created it and is its ultimate source (Gen 1:3), that light dwells with him (Dan 2:22), that he wraps himself in light as with a garment (Ps 104:2) and actually at this time they were remembering the pillar of fire that gave them light as they traveled led by God in the wilderness (Ex 13:21). We know that God is light (1 John 1:5), so once again Jesus is making the great claim that he is God!
First of all, he is telling us that he is glorious and excellent and worthy of worship. Secondly he is telling us that he enlightens the world and each of our lives. No need to walk in darkness when the light has come. He is the light of life and you and I both need him to bring light and understanding to us. With Jesus, life will make sense – the good, the bad and the ugly will all make sense. With Jesus, your path will be lit up and you will have guidance to know which way is the best to go.
Ask Jesus, the light of the world to bring his light to you today.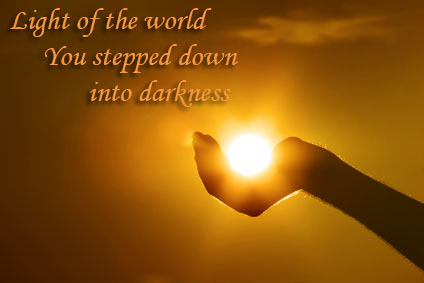 Comments
comments